Six of us set off from Keiloch car park to go to the Prince's Stone. We had all diligently listened to the weather forecast and applied sun cream, packed sun glasses and hats before setting off from home. We needn't have bothered, the weather had not listened to the same forecast as us and we were greeted with leaden skies and a much cooler breeze than we had anticipated. Undeterred and in a happy mood we set off.
Our walk took us over the Old Brig of Dee and into Ballochbuie Forest.
Ballochbuie Forest was bought in 1878 by Queen Victoria to save it from being felled. The forest is now solely managed for conservation purposes and forms one of the largest continuous areas of Caledonian Forest in Scotland and contains some of the largest and oldest Scots Pine in the UK.
We followed the Landrover track that runs beside the River Dee. The heather was in bloom and the contrast between the purple of the heather and the darkness of the Scots pine made for a beautiful scene which was enhanced by the shafts of sunlight filtering through the trees.
Just beyond Gargh Allt Shiel we came across a stone memorial to Margaret Rhodes nee Elphinstone 1925 to 2016. Margaret was a first cousin of Queen Elizabeth and one of her closest friends.
We continued along the track then took a small path to the right which loosely followed the Ballochbuie Burn. Coming out of the forest we were treated to views of Car Fiaclach and Cnap a Choire Bhuidhe. Behind us wearing a mantle of mist was Ben Avon. In the tradition of the WHW it was 11am so we stopped here for a cup of tea. We then continued along the clear path spotting a young adder and crossed Feith an Laoigh and climbed the steep path to the Prince's Stone.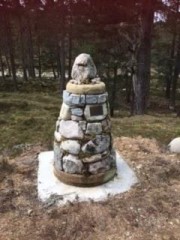 Retracing our steps to the forest, Ben Avon's tors were clear to see. We followed the track below Carn Fiaclach, with this walk wherever we went another beautiful view would open up for us, between the trees, above the trees or below the trees. We all crossed Blacksheil Burn without mishap, the FB wasn't there! We continued to Feindallachar Burn, FB intact and from there we went to the waterfall. At the waterfall we met three members of the Metropolitan Police on Royal Duties, they kindly offered to take our picture. Here we were ahead of schedule so took a slight detour to take in Honkers which is a small log cabin where the queen used to enjoy picnics. We then returned to the car via a path which ran below Creag nan Leachda.
I think we all had an enjoyable day.